Summary:
If battery voltage above 24V is used, it should be considered to replace T5 and T6 transistors with higher power rating, for example BCP56, which is SOT-223 case.
Long version:
PWM2420-LUS is used as charger for a battery 20x 1.6V NiFe-accumulator (aka Edison-cell). After one day of usage, PWM2420 charger was defective. I know, this is off-label-use of charger. Charger was used with 1.3'' OLED display
Damage analysis:
T6 was blown, secondary defects D3, T5,D8,U5 and controller U1
Presumed cause:
Because of the high voltage drop over T6, the transistor overheated and got broken. U5 got too much voltage and was destroyed, U1 got too much voltage and was destroyed also.
Recommended modification:
Change Transistors with higher power rating. This failure could happen with LiIOn-cells also when voltage rises over 24V. SOT23 is maybe little bit too small for power handling.
Further recommendation:
During analysis, there was a weak stabilisation of 12V and 24V voltages over rising of battery voltage. At that time controller was stopped, so no power was drain from 12V rail. It seems current through D3 rise 12V rail to higher level, so 24V level rises also. I recommend to use a 24V (D3) connected to ground directly to get better regulation behaviour.
Voltage at regulator original schematic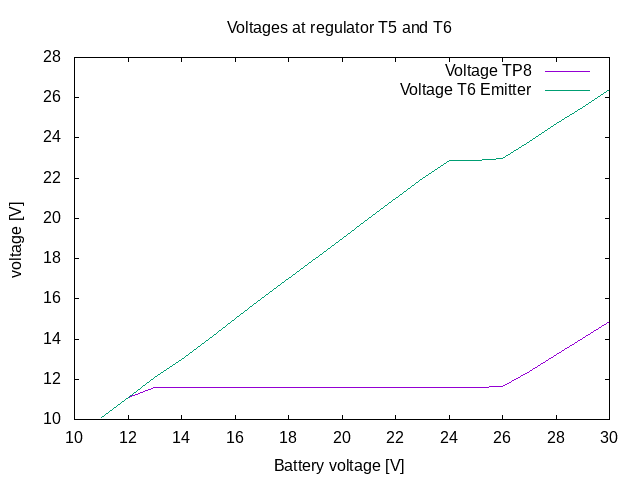 Modification

Picture of damaged T6:

Picture of quick-and-dirty-hack with SOT223 transistor housings

Battery voltage and current (PWM2420 values) before incident:

Comments are welcome.